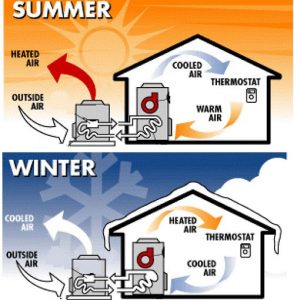 A heat pump is an efficient way to heat and cool your home, by pulling air from outside and transporting it throughout your house. During summer, it extracts the warm air from inside while taking cool air from 
outside to circulate through your home. During winter, your heat pump absorbs heat from outside and brings it indoors, heating your home. 
Heat pumps can be up to 300% more efficient than electric baseboards and up to 50% more energy efficient for cooling compared to a typical window AC unit. 
Heat pumps are a great option in B.C. They can operate from +37*C to -25°C, depending on the model and manufacturer .If you're considering an air-source heat pump, there are different types. Each type offers different benefits depending on your home and your needs: 
Ductless: A ductless or mini-split heat pump consists of an outdoor compressor and one or more heads typically mounted inside near the ceiling of larger rooms and connected to the compressor by a hidden refrigerant line. While one outdoor compressor can service more than one head and hence more of your home, the system efficiency typically goes down with each additional head

added to a compressor. A ductless is quick and easy to install, with minimal invasive work to your home. There is no duct work or retrofitting required. It will usually take a professional contractor a day or two at the most.

Mini-ducted: A mini-ducted heat pump essentially uses ductless technology with an outside compressor connected to one or more indoor heads by a refrigerant line. Some ducts are then installed and connected to a hidden head, usually in the attic that runs to small vents in two or more rooms. 

Central: A central heat pump has an outdoor compressor connected to an indoor furnace or air handler and uses ducts to move warm or cool air throughout the home. If replacing a central furnace with a central heat pump, attention must be paid to the sizing of the existing ductwork. The air temperature distributed by heat pumps is generally lower and at a greater volume than the air distributed by an electrical or gas furnace. This is because the heat pump transfers warm air instead of generating it. Modifications to existing ducting may be required to ensure efficient heat pump operation and comfort in the home. 
Pacific Air Mechanical specialists have the training and expertise to determine the right solution for your space, whether you need energy efficient heating or better interior climate control for your air conditioning.